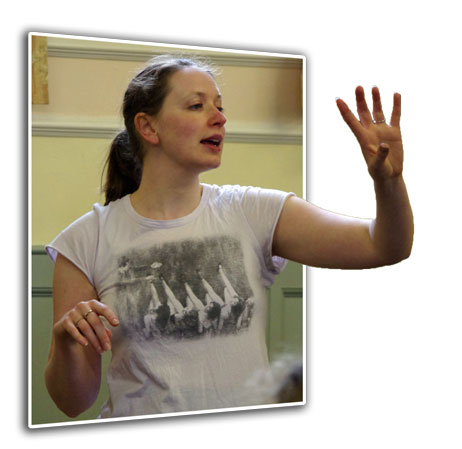 Dawn Turner
Dawn began her dance training aged 4 when she tried Tap, Ballet and Highland and only lasted 3 weeks because she was scared of the teacher! At age 5, she began Movement to Music classes with the S.K.F.A. (Scottish Keep Fit Association) and continued with this for 5 years until she was 10. At age 8, she took a fun class in Ballet and Jazz with an outreach teacher from Dance Base. When this finished, she begged her Mum to find her more regular lessons. At age 9, she began Tap dance lessons with the Alpha Dance Academy and continued here, also doing Modern until she was 14.
When Dawn was 14, she gave up dancing for 2 years, but she never lost her love of the subject and at 16 she began Tap, Disco and Jazz classes with Lyndos School of Dance. When Dawn was 18, she auditioned for and gained a place with the Flyright Dance Company where she began to learn Swing and many other social dance styles as well as taking ballet lessons at Dancebase and through private study.
At 20, during her second year of a Speech Pathology degree, she left Lyndos to pursue commitments with Flyright and through this work, began Dance til Dawn. It was at this time she met Vicky Farnworth, a dance teacher from Rossendale (who is now a very close and trusted friend) who agreed to train Dawn for her teaching diploma in the Theatre Syllabus of the U.K.A (United Kingdom Alliance of Professional Teachers of Dance). Dawn decided to diversify in her own dance training and began taking lessons in African and Contemporary dance which she feels has helped strengthen her own technique.
Dawn now holds a U.K.A Diploma in the Theatre branch as well as in Hip-Hop and Street. She now works full time as a dance teacher. She teaches Tap at Dance Base, National Centre for Dance and works as a freelance dance artist for the Dancebase outreach programme.